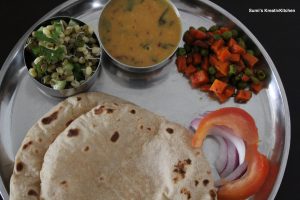 I guess all of us have those days when you want just a simple uncomplicated comforting meal. Guess the guilt after many indulgences takes over!! 🙂 So I present to you a simple, satisfying straightforward vegan meal that you can put together in under an hour while listening to your favorite tracks!
Here is a flavorful carrot+peas subzi and a protein-packed mung sprouts salad with cucumber and green chilies  and fresh phulkas!
No fancy preparations for carrots and peas: Just peel and dice carrots  into 1″ cubes (2 cups), sautee with jeera (1 tsp)+ turmeric (1/2 tsp)+ roasted jeera powder (1 tsp)+red chili powder (1/4 tsp). Splash a little water on the carrots, cover and cook till they get soft but not mushy. Add 1 cup of frozen, thawed green peas, salt to taste, and mix well.  That's it!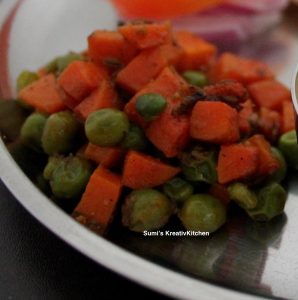 For the salad: Blanch 1/2 cup of mung sprouts in boiling water for 1 minute, immediately remove and wash in cold water. Add 1/4 cup of chopped cucumber and 2 finely sliced green chilies (obviously I like it spicy). Add salt and lemon juice to taste. Garnish with chopped cilantro and done!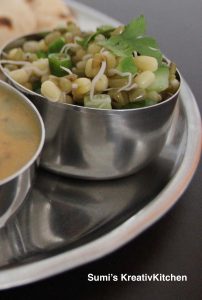 However, the Vaal Dal was the star of this meal. I had bought from fresh beetroot from the market and they came with these absolutely gorgeous greens lined with deep pink hues…I really wish I had clicked pictures. Instead of putting them together, I decided to separate the greens from the beetroot to make two preparations (beetroot surprise will come another day:-)) But here, I used the greens with Vaal Dal (flat lima beans that are slightly bitter in taste) to offset the sweetness of the carrots and peas.  Recipe below…Suffice it to say, at the end of it I felt virtuous enough to sin again!!!! So much for determination….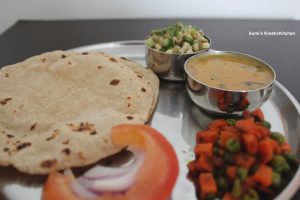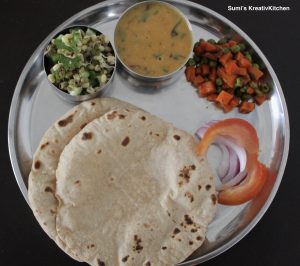 VAAL DAL
Yield:

6 servings

Prep Time:

15 minutes

Cook Time:

20 minutes
Ingredients
3/4 cup Vaal Dal
1/2 cup Chana Dal + Tur Dal (mixed)
4 Green Chilies
3 Tomatoes
1 tbsp Jeera
1 cup Beet Greens (chopped)
1 tsp Turmeric powder
1 tsp Dhania (coriander) powder
1.5 tbsp Olive oil
1 tbsp Ghee
3-4 tbsp Fresh Lemon Juice
4 tbsp Chopped Cilantro
1 tsp Ajwain (Carom seeds)
Instructions
Wash and mix all the dals together and pressure cook for 8 minutes.

Chop the beet greens and tomatoes really fine, slit the green chilies

Heat 1.5 tbsp Olive oil + 1 tbsp Ghee. Add 1 tbsp of Jeera and 1 tsp of Ajwain and allow them to crackle. Saute lightly.

Add 3 finely chopped tomatoes and 4 slit green chilies, and 1 tsp of turmeric. Saute on medium heat and cover and cook till the tomatoes are cooked down and get mushy.

Add 1 cup of chopped beet greens and 1 tbsp of dhania powder. Saute for a minute, cover and cook for a minute till the greens wilt.

Add the cooked dals and mix well. Add 1 cup of water (or more if you desire a more watery consistency). Add salt to taste and partially cover and cook till the dal boils and everything melds together.

Turn off the heat and add 3-4 tbsp of fresh lemon juice.

Garnish with finely chopped coriander.

Serve hot! With fresh phulkas if you are going for virtuosity or just indulge with some parathas 🙂 Any which way, this will be a satiating meal I promise!!