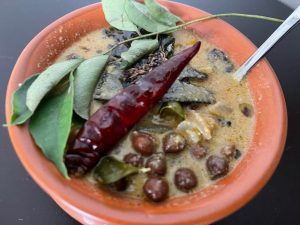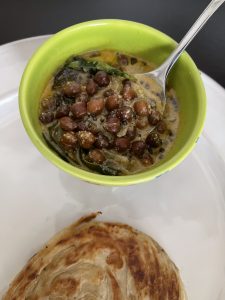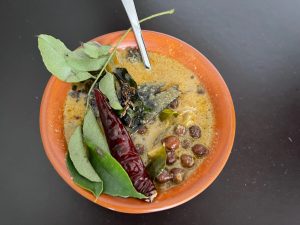 I have been a fan of these black/brown chickpeas for ever…more than the regular ones actually. They have more of a textural bite than the regular ones I feel. And the coconut flavor with all the other spices….absolutely yummy! And those of you that have not yet tasted the Malabar Porotta, I feel for you!! It is simply one of the best!!
So, a dear friend was visiting. I knew how much we'd have to chat, so I was clear that I didn't want to plan a menu that would keep us in the kitchen given that she was going to be home for a short while. And it was going to be a HOT day…and with all of us trying to stay on a healthy eating course, I decided that we would be equal parts virtuous and sinners 🙂 I made it easier on myself with  the store bought Kerala porotta and made the kadala curry. A fresh salad of spring green with stone fruit (juicy peaches), bluebeerries, and nuts and cheese satiated us completely! A Kreativ Combo Meal was ready!!
I adapted the recipe from: https://www.yummyoyummy.com/2021/06/kerala-restaurant-style-kadala-curry.html. Thanks to @Maya Akhil for the lovely recipe!
My version of the kadala curry is richer and probably non-traditional with the addition of coconut milk, but I am unapologetically going to go for the full flavor 🙂 Cook and see I say and you can thank me later!!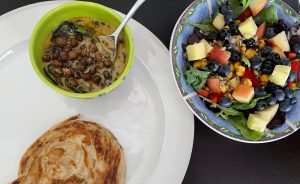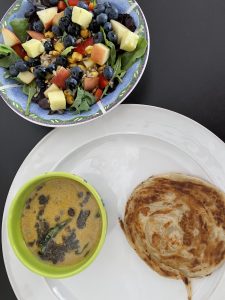 KADALA CURRY
Yield:

4 portions

Prep Time:

30 Minutes

Cook Time:

45 minutes
Ingredients
3/4 cup Black/Brown chick peas
1 Medium sized Red Onion
1
3 cloves Garlic
3 Medium sized Tomatoes
2 Green chilies
1 tsp Turmeric
1 tbsp Red Chilli Powder
1/2 tsp Hing
2 tbsp Coriander-Cumin powder
3/4 tsp Garam Masala
1 tbsp Fennel seeds
4 Cloves
2 Green Cardamom
1
3 tbsp Freshly grated Coconut
1 tsp Coconut oil
1 tbsp Mustard seeds
1tbsp Cumin seeds
2 Dried red chilies
10 curry leaves
12 oz Coconut milk
Instructions
Soak the kala chana/kadala/brown chickpeas overnight in a large bowl with lots of water overnight.

Pressure cook the kala chana till they are soft but firm to the bite* (about 7 minutes). Drain off the water but do not discard.

Chop the onion, tomatoes, green chilies, ginger, garlic into a fine dice and keep them in separate bowls.

Heat 3 tbsp of cooking oil** and add all the whole spices (fennel seeds + cloves + green cardamom + cinnamon stick), saute, and then add the onions on medium high heat, saute till it turns light pink. Then add the ginger and garlic and saute well till the aromas fill up your kitchen! Lower the heat.

Add the turmeric, red chili powder, hing, coriander cumin powder, and mix everything well. Sprinkle some water.

Add the grated coconut and saute with the spices till it turns a light brown.

Add the chopped tomatoes, mix everything well and increase the heat and cover and cook for 7-8 minutes till everything becomes mushy and the oil starts separating out.

Turn off the heat and transfer the gray mixture to a blender and blend with half of the coconut milk.

In a pan, heat 2 tbsp of oil. Add the mustard and cumin seeds along with the dried red chilies broken and some curry leaves. After the seeds splutter, add the ground mixture to the pan and add a little bit of water.

Add the cooked chana to the gravy. Add the other half of the coconut milk and cover. Simmer for 8-10 minutes. Adjust the consistency by adding the water from the cooked chana if needed.

Drizzle some coconut oil on the hot gravy and garnish with curry leaves and attack with abandon!!!
Notes
* I cooked mine in the Instant Pot for 7 minutes under pressure and waited for the pressure to release before opening it. You may cook it for longer, and it is indeed a personal preference, but allowing it to become mushy will change the texture of the curry significantly.
** Traditionally, this is made in coconut oil, but if you are not a fan, just use any oil that you use regularly.