It's one of the busiest times of the year with Deepavali and the festivities and the visitors and the shopping, and the eating!!! Let's start on the right foot first…an easy make-ahead South Indian appetizer/snack for your party, Kuzhipaniyarams! For this, you can use left over/store bought/or make idli batter! Here is the recipe for the traditional rice and dal  idli batter that I had posted earlier. The essential gadget for this recipe is the Kuzhipaniyaram/Appam maker or popularly also called the Appe Pan. I use the non-stick kind and have been thrilled with the results.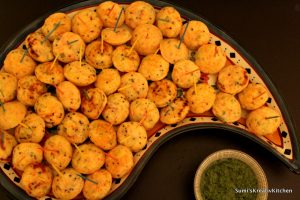 INGREDIENTS
Idli batter, Carrots, Green bell peppers, Mustard seeds, Cilantro, Curry leaves.
RECIPE
In a large bowl, add 2 cups of idli batter. Do not add water to it!
Grate 1 medium sized carrot into fine shreds and add to the batter.
Finely dice 1 medium sized green bell pepper and add to the batter.
Heat 1 tsp of oil and add 1.5 tsp of mustard seeds to the batter.
Add 2 tsps of finely chopped cilantro and curry leaves each.
Mix everything well.
Place the non-stick appam maker on the stove and add just a drop of oil in each of the wells and heat the oil.
Drop a spoon full of the batter into each of the wells and cover with a lid, cook the kuzhipaniyarams on medium heat for about a minute.
With the help of a spoon/skewer, turn the kuzhipaniyarams over and add a little drop of oil around the sides of the well. Cover again. Cook for about 30-40 seconds.
Take them out on a plate lined with paper towels.
Serve warm with a chutney/dip of your choice.
Notes to the chef:
You can make these kuzhipaniyarams at least 3-4 hours ahead of your party and store them in an airtight container. Before serving, you can either microwave them for a minute (do not over heat in the microwave, the kuzhipaniyarams will get dry). A better alternative is to just spread them on a cookie sheet and heat them in a toaster over for a few minutes.