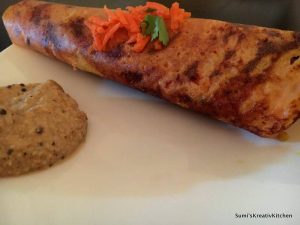 With the Coronavirus turning our worlds upside down, maybe this is a good time for all of us to stay home and bond over some yummy treats? I was looking in the fridge and I seemed to have bought a bunch of carrots that I wanted to use quickly before they went soft and unappetizing. Combining it with my craving for some hot Masala Dosa, yeilded this delicious treat! And, it may seem sacriligeous to traditional South Indian cooks to use Basmati rice to make dosas, but I do! I find that the dosas made from this rice turn out crisp and stay moist and don't dry out…
Cook and see I say!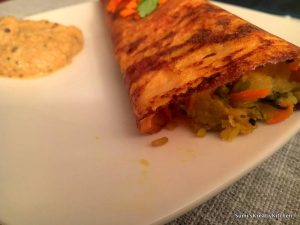 CARROT MASALA DOSAI
Yield:

Plenty!! Eat over time!

Prep Time:

12 hours

Cook Time:

1 hour
Ingredients
Basmati rice: 4 cups
Whole urad dal without skin (Gota urad): 1 cup
Fenugreek seeds (methi): 1 tsp
Poha (brown or white): a fistful
Ragi flour: 1/2 cup
Carrots: 10 medium size
Potatoes: 3
Onion: 1 medium size
Olive oil: 1 tbsp
Mustard seeds: 1 tbsp
Urad dal: 3/4 tbsp
Green chilies: 3
Curry leaves: 4-5
Chopped cilantro: 3 tbsp
Fresh lemon juice: 1 tbsp
Turmeric powder: 1/2 tsp
Instructions
In a large bowl, add:
4 cups* of basmati rice +fistful of poha + 1 cup of Gota urad dal + 1 tsp of methi seeds. Add enough water to fill the bowl and cover everything completely. Soak this for 10 hours approximately.

After 10 hours, drain off the water, wash well, and blend everything to a smooth paste with about 3 cups of water. You can add a little more water if you feel the dough is too thick. It should be of pouring consistency. Add salt to taste and keep aside at room temperature overnight.**

The dough will ferment and rise and form light air bubbles. With a long spoon, mix it vigorously and well and store it in the fridge till you are ready to make dosas!

Wash, peel, and juice 8 carrots with very little water. Strain the juice and keep aside

Grate 2 carrots and keep aside for garnish.

Pressure cook the potatoes. When they are done but still hot, peel and gently mash them with a fork so it is lumpy and not a complete mash.

Chop 1 medium red onion into a fine dice.

TO MAKE THE FILLING/MASALA:
Heat 1 tbsp of olive oil and add 1 tbsp of mustard seeds. When they begin to splutter, add 1 tbsp of broken urad dal and saute till they are light brown. Add the onion and saute till they are light pink (ensure that they do not get brown). Add the mashed potatoes and vertically slit green chilies and mix well on low heat. Mix 1/2 tsp of turmeric in 1 tbsp of water and pour it all over the onion/potato mixture. Add salt to taste and mix well. Tear up 4-5 curry leaves and add to the masala. Add 3 tbsp of finely chopped cilantro, 1 tbsp of lemon juice, a little bit of grated carrots, and mix everything together. Keep aside.

In a big bowl add:

2 cups of dosa batter
3/4 cup of ragi flour
Carrot juice

Whisk till everything is mixed well. Add water little by little depending on the consistency of your batter to get it to a dropping consistency.

Heat a non-stick tava. Pour 1.5 ladles of dosa batter and start quickly spreading with the back of the ladle to a thin crepe on low heat. Add droplets of olive oil and increase the heat to medium high. Allow the dosa to cook through. When ready, the dosa will start to brown and leave the sides of the tava. Reduce the heat and add 2 tbsp of masala along the length of the dosa. With a flat spatula, fold the dosa over from either sides and bring to the center. Lift gently and place on a plate. Garnish with grated carrots and cilantro and serve immediately with chutney.
Notes
* You may use any measure that you prefer if you do not wish to make so much batter. Basically, you need 4 measures of rice: 1 measure of urad dal. That's it!
** If you are making this in the peak of summer, then the fermentation process may take 3-4 hours at the most.