This is a real simple no-brainer recipe for anyone. Potatoes. Cauliflower. Tomatoes. A few spices. Done!  A common item on literally every restaurant menu, a staple in many households in Northern India, Aloo Gobi is as comforting as comfort food gets. And it is super quick to make too. Here is the classic recipe. While I had been making it for years, many moons ago, I watched my dear friend Amrita Bedi making it with such gusto and ease and there is nothing like learning by cooking together! Since then, this has been my standard recipe for Aloo Gobi. And failsafe too 🙂 Then, one day, I had a real fresh head of broccoli and threw it in at the last minute and allowed it to cook for just 3-4 minutes but retained the crunch. It was great! Of course, adding broccoli is not traditional and  you may skip it.
Cook and see, I say!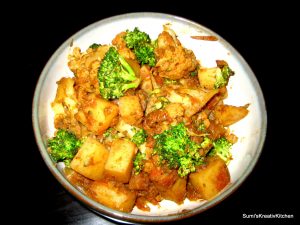 ALOO GOBI
Yield:

4 Servings

Prep Time:

20 Minutes

Cook Time:

25 Minutes
Ingredients
Potatoes: 4 large
Cauliflower: 1 small
Tomatoes: 7 medium sized
Cumin Seeds: 1.5 tbsp
Fresh Ginger: 2 tbsp
Turmeric powder: 1 tsp
Red Chili powder: 1 tbsp
Kashmiri Chili powder: 2 tbsp
Garam masala: 1.5 tbsp
Roasted cumin powder: 1 tsp
Coriander powder: 1tbsp
Asafoetida (Hing): 1 tsp
Broccoli florets: 10 (optional)
Cilantro finely chopped: 2 tbsp
Instructions
Peel and cut the potatoes into 2" cubes and place them in a bowl of water to prevent them from blackening.

Chop the tomatoes into small pieces.

Place the cauliflower in a big bowl of salt water for a few minutes. Then rinse and cut them into bite size florets.

Heat 3 tbsp of olive oil in a large bottomed wok.

Add 1.5 tbsp of jeera and allow to splutter.

Add the 7 finely chopped tomatoes + 2 tbsp of freshly grated ginger and saute vigorously for a couple of minutes.

Add salt to taste + 1 tsp of turmeric powder + 1 tbsp of Red chili powder + 2 tbsp of Kashmiri red chili powder + 1.5 tbsp of Garam Masala + 1 tsp of roasted Cumin powder + 1tbsp of Coriander powder + 1 tsp of Hing. Saute till all the spices are mixed well.

Add the cubed potatoes and 1/2 cup of water. Mix and cover and allow the tomatoes to cook down and the potatoes are almost but not fully cooked.

Add the cauliflower florets. Sprinkle a little more water and allow the vegetables to cook till they are tender but firm. Check with a fork/toothpick.

If you are adding broccoli, add it when the cauliflower is almost cooked. Mix everything well. Do not overcook!

Garnish with finely chopped cilantro.

Serve immediately with hot phulkas/parathas/naans.