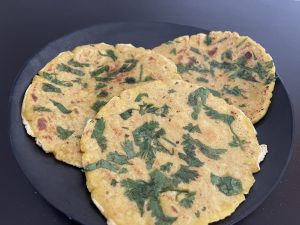 Another classic Punjabi winter staple…Makki di Roti. What magic happens with  maize flour! Amazing! I have to confess that my  rotis weren't like the ones we were treated to at the Dhabas in  Amritsar, but I was determined that the bread that would be eaten with Sarson ka Saag would be Makki di Roti and nothing else! So imperfect as it was, we made do with it! The  one thing I  just tried to do was to just top the rotis with fresh dhania (cilantro) because I wanted to add color (no other reason!!). I tried rotating it on the board with maize flour and didn't succeed! So just smeared a drop of oil on plastic  and patted the rotis down and inverted them on the hot tava….that worked after a couple of tries!
Served with piping hot Sarson ka Saag, and the imperfections were not obvious!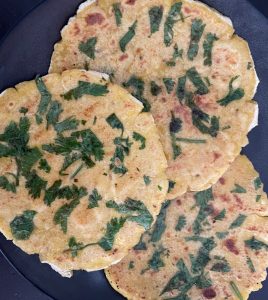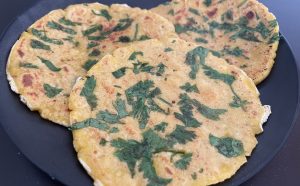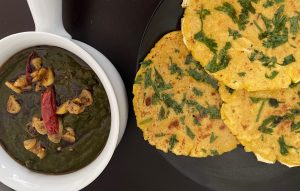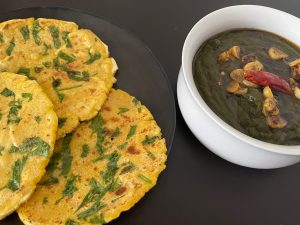 MAKKI DI ROTI
Yield:

5 rotis

Prep Time:

20 minutes

Cook Time:

20 minutes
Ingredients
1 cup Makki ka aata (Maize flour)
1 tsp Ajwain (Carom seeds)
1/4 cup Warm milk (optional)
5 tbsp freshly chopped Dhania (Cilantro)
Ghee
Instructions
Add 1 cup of Makki ka aata to a bowl.

Add 1 tsp of Ajwain and salt to taste (I skipped the salt) and mix well.

Add 1/4 cup of warm milk (you can skip this for a vegan version easily) and start making a soft dough.

Add required water very slowly to knead into a soft pliable dough and keep aside covered for 5 minutes.

Take a piece of plastic and smear a little bit of oil on it.

Partition the dough into 5 smooth balls. Start patting it down on the plastic to make them medium thick.

Add 1 tbsp of chopped dhania on top and press them down on to the roti.

Heat a tava and reduce the heat to low and transfer the roti on to the tava. Increase the heat to high.

Wet your hand and sprinkle some water on the roti and smear it well. Cook the roti by pressing and turning it around constantly with a cloth/paper towel. Flip and cook on the other side till brown spots appear.

Once the roti is cooked on both sides take it out and smear some ghee (or oil if you want to keep it vegan) on it.

Serve hot with Sarson Ka saag and enjoy!!