Aah Parathas! The fabulous flatbreads of India……the endless varieties that exist and the never-ending possibilities of tweaking it is just mind boggling! Literally, any vegetable can be spiced and stuffed into the dough with almost always amazing results! Just stuffing a paratha with nothing but a good hearty spiceblend is just as satisfying! But that is for another day's post.
Today, I went with a crowd favorite: Paneer Paratha. Bread stuffed with Cheese! But I had just come back from the market with fresh fragrant dhania! I couldn't resist making this a Cilantro forward Paneer Paratha with a dash of lemon to brighten up the flavors and a hint of green chilies to wake up your taste buds! Enjoy!!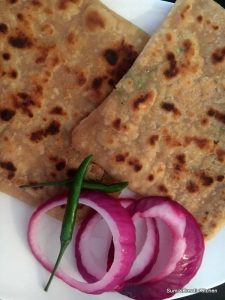 PANEER DHANIA STUFFED PARATHA
Yield:

8 parathas

Prep Time:

30 minutes

Cook Time:

15 minutes
Ingredients
1.5 cups Whole wheat flour
1/2 cup grated paneer
1 Green chili
1/2 cup finely chopped Cilantro/Coriander leaves/Dhania
2 tbsp freshly squeezed Lemon Juice
Ghee
Cooking oil
Instructions
Take a big bowl and add the wheat flour.

Add 1/4 tsp of salt.

Using your clean hands, make a well in a center and add a little water and start mixing to make a semi-soft dough. Add water little by little to prevent a gooey mess! Knead with your fingers and palm and slowly but surely the dough will come together. Roll it into a ball picking up all the bits of dough around in the bowl.

Add 1 tbsp of oil to the dough and knead it for another 3 minutes, punching it and rolling it. Now the dough should resemble smooth ball.

Cover and let it rest for 20 minutes.

Now prepare the stuffing for the parathas:

In a bowl, add the grated paneer+ finely chopped green chili+ finely chopped dhania+ fresh lemon juice. Mix well.

Making the parathas:

a. Divide the dough into 8 equal sized balls.

b. Take one ball and roll it in wheat flour.

c. Roll into a 3 inch circle (yes, this will be a thickish circle).

d. Brush the circle lightly with ghee.

e. In the middle of the circle, add 2 tbsp of the stuffing. Spread it in such a way that there is a room all around to seal.

f. Lift up one side of the circle and take it to the middle and press down lightly. Now take the opposite side and place it on top of the earlier one. Press down gently to make sure the edges are sealed. Next, take the left side of the circle and bring it to the middle followed by the right side of the circle and seal well. You will now be facing a squarish thick paratha.

g. Gently lift it and flour the board and place the seam sides down and start rolling the parathas to retain the square shape. Take care to not make it too think, else the paratha will tear and the stuffing will spill out. Like all parathas, this one will need to be about 1/4" thick.

h. With a sharp knife, cut off the edges if you desire a perfectly square shape, else you can ignore this step.

i. Repeat with the rest of the rounds of dough that you have prepared.

Heat a griddle and add a drop of ghee to it and spread it around. Add a paratha and cook by pressing it down softly with a flat spatula. Add a couple of drops of ghee on the top of the paratha and smear it all over. Flip it and allow to cook till golden brown on both sides.

Serve immediately with fresh onion, pickle and green chilies!
Notes
To the Chef:
1. I wanted to just make this one different and hence went with the square shape. Needless to say, you can simply go with the traditional round shape. In which case, you will just need to roll out each of the dough rounds, fill with the stuffing and close it by pinching the circumference of the circle all together, press it well and roll it out again to make a round paratha! I assure you, there will be no difference in the taste!
2. Usually, parathas are made with a lot more ghee, but as you can see from the picture, my parathas a bit on the dry side. I wanted to keep it low on fat but not on taste! 🙂 But you are, of course, welcome to add more ghee for a glistening paratha!!