Despite the many strong feelings that this holiday evokes in me because of it's historical past, this is one day that is messaged aggressively as a day of reflection and acknowledging life's gifts. And maybe that is the silver lining, because indeed, I have been incredibly fortunate to have been touched by the gifts and the bounties of love, friendship, and happiness. And for that, I am indeed grateful.
Significantly, life has been punctuated with gathering around the dining table with family and friends with an amazing regularity peppered with fun and loads of laughter! Very thankful!
So, throughout this month, I have been cooking with produce that underscore Fall produce. Here's a classic: SKILLET ROASTED BRUSSEL SPROUTS!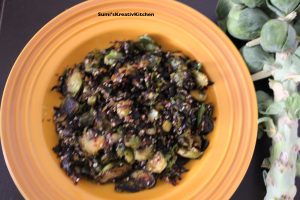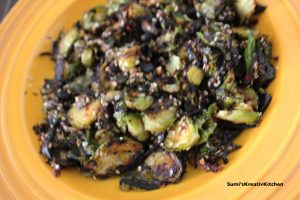 Scroll through my website and you'll see other staples like Butternut Squash Curry (with chickpea this time!), and a Kale and Millet warm salad with spices, Cranberry Pickle Kadi, and last but not the least, Caramalized Apple Kesari (Sheera)!!