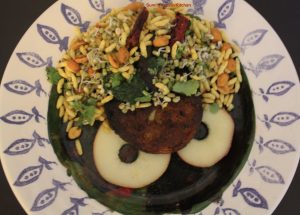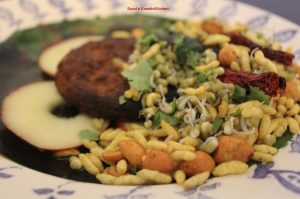 I didn't feel up to cooking today, as has been been the case during these hot summer days! Wanted something with minimal effort or a no-cook dinner. But I also didn't want to gravitate towards a comforting carb-laden meal. So, what do you do?? I opened my fridge and stared into it for a while….lots of ingredients, but couldn't muster up the energy to 'cook.' Then peered into my freezer. There it was!! Trader Joe's Masala Burger!! This is one amazing product! Has a good mix of all veggies and is to me, very close to an Aloo Tikki (potato patty) without the overload of potatoes! And my usual pack of homemade mungbean sprouts! Looked into my pantry and saw this bag of murmura (puffed rice). Seemingly unlikely friends, but I was determined to eliminate the barriers! So, grabbed the burger, set the water to blanch the sprouts, got out the murmura and slowly an idea begins to form 🙂 Sometimes it is liberating to go with a no-recipe recipe! And savor the triumph of the outcome, no?
So, just grilled the ready burger to a char, spiced up the murmura, and dressed the sprouts and put it all together! Voila!! Behold a beautiful, light, and yet filling dinner! You'll feel fit enough to dance! If you don't believe me, just cook and see I say!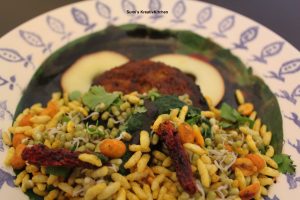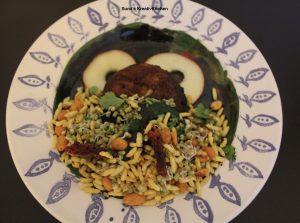 MIX-N-MATCH DINNER WITH BURGER, SPROUTS, AND PUFFED RICE!
Yield:

2 (scalable as desired)

Prep Time:

15 minutes

Cook Time:

5 minutes
Ingredients
2 Trader Joe's Masala Burgers/Any ready-to-eat burgers/Potato patties
3/4 cup Mung Bean Sprouts
2 fistfuls Murmura (Puffed Rice)
1 tsp Mustard oil (or any oil of your choice)
1/2 tsp Nigella seeds (Kalonji)
2 Dried Red Chilies
1/4 tsp Turmeric powder
1/3 cup Spiced peanuts (or regular peanuts)
2 Green Chilies (optional)
1 tbsp Fresh Lemon Juice
2 tbsp Coriander-Mint Chutney (or any hot sauce you have on hand)
1 tbsp Date-Tamarind Chutney (or Tomato Ketchup)
1 Crisp Apple
1 tbsp Finely Chopped Cilantro
Instructions
Spray oil on both sides of the burgers and put them into a toaster oven to brown and get really crisp (You can even do this in a skillet). I like mine really charred but you can decide based on personal preference. Keep burgers warm.

Heat water in a pan and when it is boiling, drop 3/4 cup of mungbean sprouts. Blanch for precisely 40 seconds. Drain off the sprouts and wash off with cold water. Drop them into a bowl. Add a pinch of salt +1 finely sliced green chili + 1 tbsp of lemon juice. Keep aside.

Heat 1 tsp of mustard oil.

Add 1/2 tsp of kalonji + 1/4 tsp of turmeric powder and break 2 dried red chilies into the oil. Sauté briefly. Add 2 fistfuls of murmura and sprinkle a pinch of salt. Turn off the heat. Add 1/3rd cup of spiced peanuts and 1 finely sliced green chili (yes, I like spicy!! :))

All set. Now for Assembly. Please follow these steps carefully!

a. Put on some lilting music!
b. Core the apple and cut 4 thin slices. Lay 4 slices of apple on a plate.
c. Place the grilled burger on the apple.
d. Take a spoon and sprinkle some sprouts on half of the burger.
e. Sprinkle with some spiced muris.
f. Add sprouts again.
g. Sprinkle with some spiced muris again.
h. Top with a spoon of coriander-mint chutney and date-tamarind chutney.
i. Garnish with finely chopped cilantro.
j. Attack with spoon, fork, and knife! Yes, you will need them all!!
k. And dance like no one is watching!!! And what if they are even???!!! Because that's what this dish will make you do….feel light and good and oh so triumphant!! 🙂 🙂