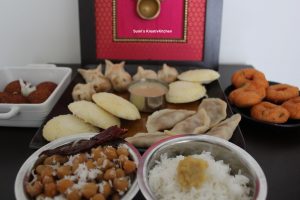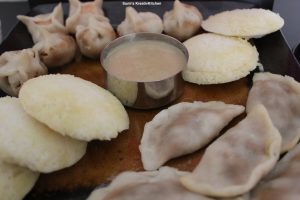 Today marks the birthday celebrations for Ganesha, the Elephant Headed God of the Hindus. A God whose name is invoked before the start of any activity/ritual/learning, etc. Believed to be the vanquisher of all evils and the remover of hurdles and obstacles, Vigneshwara or Pillayaar, as he is popularly known in TamilNadu is much loved and revered. And, having grown up in Mumbai, this time of the year used to see this God being celebrated with a frenzy! Installations of the Ganpati idol of various sizes in various poses, replete with amazing floral decorations and most importantly, the Marathi songs on Ganpati in the honey-dipped voice of Lata Mangeshkar! Magical times…
BUT, that is not the reason for my love for this God 🙂 One look at the image of Ganesha and  you know he is a foodie!! And the foods that he likes are the ones that never fails to hit the spot for the carb-lover in me!! 🙂 And the goodies that are prepared on this day are testament to that! Kozhakattai/Modagams/Modaks take centerstage! Three types of these steamed rice dumplings (think of momos, but sweetened with coconut and jaggery, sesame seeds and jaggery, and a savory lentil filling), Idlis, Payasam, Sundal, and Appams!
I have been in a food coma all day, but wanted to share this before the day was out….