This is a simple and yet super satisfying one pot wonder that anyone can make in 20 minutes! You can serve it with Tacos, Enchiladas (like I did here), or just eat it plain with a refreshing Raita!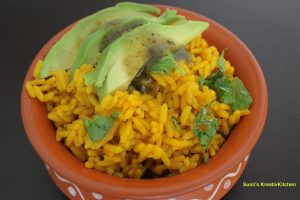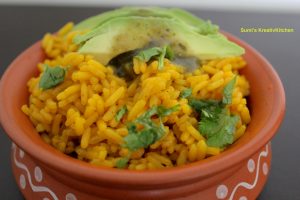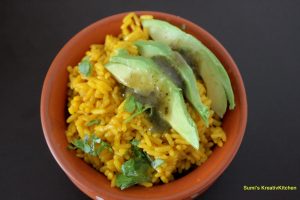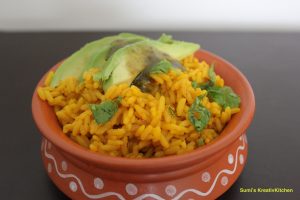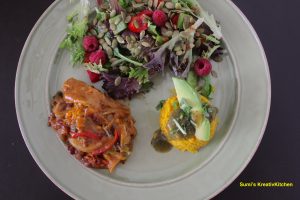 MEXICAN RICE
Yield:

4 SERVINGS

Prep Time:

5 minutes

Cook Time:

20 MINUTES
Ingredients
1/2 cup Short Grain Rice
1 Garlic clove minced
1 tbsp of Red Chili flakes
1 tsp of Turmeric powder
1 tsp of Garlic powder
1 tsp of Mexican seasoning
2 tbsp of Pickled Jalapeños finely chopped
1 tsp of Chopped Cilantro
1 Avocado
Instructions
Wash 1/2 cup of Short Grain rice thoroughly. Drain off all the excess water and keep aside.

Heat 1 tbsp of Olive oil in a sauce pan. Reduce the heat to medium and add 1 minced Garlic clove. Sauté till it turns a light brown.

Add 1 tbsp of Red chili flakes+ 1 tsp of Turmeric powder+ 1 tsp of Garlic Powder. Sauté for a few seconds.

Add the drained rice and sauté everything together. Add 1 tsp of Mexican seasoning.

Add 1.5 cups of water and a little salt to taste. Increase the heat and allow it to come to a boil.

Reduce the heat, cover and cook till the rice absorbs all the water. Fluff up the rice with a fork.

Add 2 tbsp of pickled Jalapenos finely chopped.

Garnish with sliced Avocado and freshly chopped cilantro. Squeeze a little lime juice on top and serve immediately!
Notes
Notes to the Chef:
Optional Spicy Sauce to go with the rice: I just blended cilantro, a little bit of dried mint, 4 Jalapeños, Olive oil, a spoon of cumin powder, a pinch of sugar, and some Mexican seasoning. Just eye balled it...nothing specific! And drizzled it on the rice and avocado. That's it! But it's totally not needed and you can simply eat it just the way it is...but me with my craving for spice always, I needed an additional oomph!