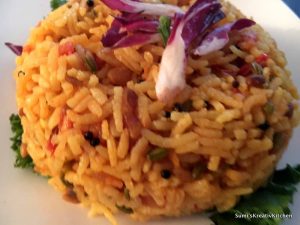 I am sure all of us had lunch box staples and Tomato Rice was one of mine! I guess it was something my mother could make easily and pack for the three of us and our father by 6.30am! So, this was one of the standard menu items that came through in the rotation and one that I loved and never tired of over the years! And my friends didn't tire of it either! Last year when one of my college friends visited and I asked what she wanted to eat: "Aunty's Tomato Rice" came the quick answer! 🙂 I make it often as well but have mostly moved to making it with quinoa. This was one of the times that I made it with rice and remembered to click pictures!! A super simple recipe to make with a delicious outcome!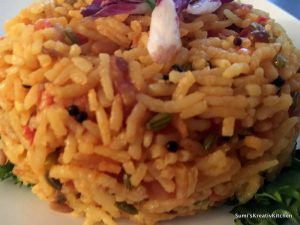 THAKKALI SADAM
Yield:

4 servings

Prep Time:

10 minutes

Cook Time:

10 minutes
Ingredients
5 Ripe Tomatoes
1 Medium sized Red Onion
2 Green chilies
1 tbsp Mustard Seeds
1/2 tsp Cumin Seeds
1 tbsp Fennel Seeds
3 Cloves
2 Cinnamon sticks
1 Bay Leaf
2 tsp Turmeric powder
1 tsp Sambar powder
1 tsp Fennel powder
1 tbsp Garam Masala
1/4 cup Chopped Cilantro
1.5 cups Cooked Long Grain Rice
Instructions
To a big pot add 1 cup of washed Long Grain Rice/Basmati Rice. Add 5 cups of water. Add 1 tsp of salt and 2 tbsp of oil/ghee. Cook till the rice gets soft. Drain off all the water. Drizzle a little oil on the rice and keep aside

Chop 5 tomatoes in small pieces

Finely dice 1 medium red onion

Chop 2 green chilies finely

Heat 2 tbsp of oil. Add 1 tbsp of Mustard seeds + 1/2 tbsp of cumin seeds. When they begin to crackle, add 1 tbsp of fennel seeds. Add 3 cloves + 2 cinnamon sticks + 1 bay leaf. Sauté briefly. Add chopped green chilies and chopped onions. Sauté on low heat, till the onions get light pink in color

Add chopped tomatoes and salt to taste. Add 2 tsp turmeric powder + 1 tsp sambar powder + 1 tsp fennel powder + 1 tbsp Garam Masala. Sprinkle a little bit of water. Cover and cook at medium heat till the tomatoes get mushy for 5-6 minutes. Turn off the heat and allow to cool down completely.

Add the cooked rice to the tomato-onion mixture. Add 1/4 cup of finely chopped cilantro. Mix gently with a flat spatula.