You may have seen my post of the traditional Sabudana Thalipeeth. For those who wish to enjoy this amazing flatbread from Western India, but in a more healthy fashion here's a green version for you! I promise you will not be disappointed!
INGREDIENTS
Sabudana, Peanuts or Masala Peanuts (recipe below. you will need: Peanuts, Dry mint powder, Mango powder, Turmeric powder to make these), Green chilies, Potato, Red onions, Cilantro, Fresh lemon juice, Kale, Chia seeds, Bajri (pearl millet) flour*.
RECIPE
Add 1 cup of sabudana to a big bowl. Wash 2-3 times and add just enough water to completely immerse it. The water should be about an inch above the level of the sabudana. Cover and let it rest for 5 hours.
Roast 1/2 cup of peanuts till it gets golden brown. Take off the skin completely and allow to cool.
Blend the peanuts to a coarse powder and add to a small bowl.
If you wish to make Masala peanuts, then to the ground peanuts, add 1/4 tsp of turmeric powder + 1/2 tsp of dry mint powder + 1/2 tsp of mango powder. Mix well and set aside.
Boil and peel 1 very small potato and grate it.
Finely chop 3 green chilies.
Finely dice 1 medium red onion.
Chop 1/2 cup of fresh cilantro.
Finely chop kale (1 cup).
Drain the water from the sabudana. The sabudana should be really soft and pliable now.
Using your clean hands, mix and mash the sabudana to break it down.
Add peanuts/masala peanuts, grated potato, green chilies, onions, and cilantro, and salt to taste.
Squeeze the juice of half a lemon.
Sprinkle 3 tbsp. of bajri flour on the mixture.
Sprinkle 3 tbsp. of chia seeds.
Mix everything together and form a soft dough. Sprinkle a little bit of water if needed to bring it together.
To make the thalipeeth: Take a Ziploc bag and place it on your clean kitchen counter. Wet your hands and wipe down the surface of the bag with your wet hands so it is moist. Now take a lemon-sized ball of the sabudana dough and slowly spread it into a circle with your palm. Do not roll with a pin! You can easily glue any broken bits with a little water. Once your have shaped the thalipeeth on the plastic, smoothen the top of the thalipeeth with a few drops of water.**
Heat up a griddle and add a bit of oil to it.
When the oil heats up, reduce the heat, and lift up the thalipeeth with your left hand, place it face down on the griddle and quickly peel off the plastic.
Increase the heat to medium-high and add a little bit of oil on the sides of the thalipeeth and on top. Allow it to cook. After a couple of minutes, the sides will start to turn brown and leave the sides of the griddle. Flip it on to the other side and allow to cook for another 2-3 minutes. ***
Serve hot with spicy chutney!!
Notes to the chef:
*If you don't have this available, feel free to substitute with almond/flax seed or another millet flour. It is just a binding agent, so no worries!
**This is an important step that will help in sliding the thalipeeth easily from the plastic to the griddle.
**If you like it crispier, leave it for an additional minute or two on each side.
Ingredients Overview: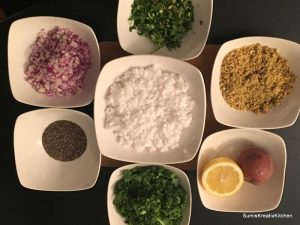 Dough: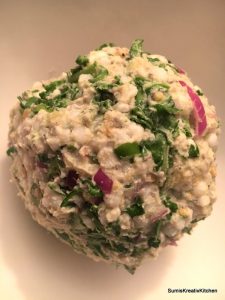 Final product!!