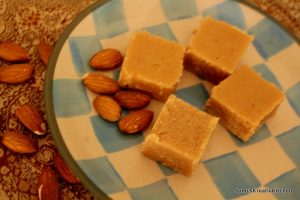 Yes, it is again that time of the year!! Deepavali and Indulgence!!
Here's wishing you all a Very Happy Diwali with a classic burfi that is sure to please your tastebuds: Badam Burfi!
It is incredible how only 3 ingredients can be transformed into these delectable little pieces of heaven….you have to taste it to believe it 🙂
Cook and see!!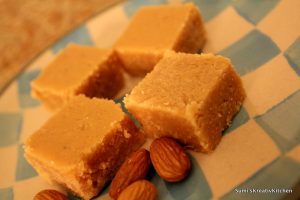 BADAM BURFI
Yield:

25-30 burfis

Prep Time:

10 minutes

Cook Time:

20 minutes
Ingredients
1 cup Whole Almond Powder
1 1/4 cups Sugar
1/2 pint (236 ml) Heavy Cream
3 tbsp of Ghee
Instructions
Grind whole almonds to make a grainy powder/meal out of it to yield 1 cup.

Melt 1.5 tbsp of ghee. Take a 12" plate/platter/baking sheet with rim and brush the bottom and the sides generously with melted ghee. Keep aside.

To a large heavy bottom pan, add the ground almonds + 1 1/4 cups sugar + 1/2 pint heavy cream.

Turn on the stove and gently stir the mixture on low-medium heat. The sugar will start dissolving and blend into the almond-cream. Once the sugar is dissolved, raise the heat to medium-high and keep stirring the mixture. Partially cover the pan and keep going back to stirring every couple of minutes. In about 14 minutes, the mixture will start to come together and start leaving the sides of the pan.*

Add 1.5 tbsp of ghee, reduce the heat and keep stirring vigorously for another 3-4 minutes.

Quickly transfer the burfi mix to the greased plate in a pouring motion so it spreads out all over the plate.

With a bowl or the back of a flat wide spoon, smooth the burfi.

Allow to cool and set for 10 minutes.

While the burfi is still warm, grease a sharp knife with ghee and cut into desired shapes.

Quickly pop one into your mouth and declare the start of gorging!!
Notes
Notes to the Chef:
* The times are approximate depending on the heat adjustments you make. And yes, it is a judgement call about when to take the burfi off the heat.