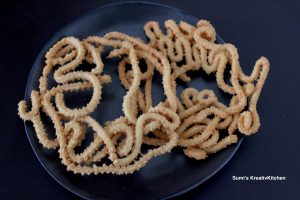 Saga of Snacks continues…..
Warning: this is a controversial post….:-)
So, there is this thing called the Pretzel in America. It is made of maida, yeast, and salt. It can be soft and doughy and is sold on the streets of New  York or can be hard and crisp, packaged and sold in the stores. The first time I had it, I wanted to spit it out….sorry Pretzel lovers! Now after over two decades, I have gotten used to the taste. Especially the mini thin healthier versions available these days. It is the one thing that you will encounter small packs if you are on a long flight…I never understood the need for that much rock salt on the outside, etc etc etc. Anyway, be that as it may, I have always wondered what it would be to offer a choice of Thengozhal or Mullu Thengozhal or any of the other plethora of fried snacks that we have in India, I think junta will go nuts, don't you think??  Anyway, a girl can fantasize especially in a lockdown situation I guess…
Anyhoo, back to the Murukku making weekend. So, having run out of ready made snacks behooved me to come up with a plan for munchies with chai. So Jowar flour to the rescue for new experiment! The Mullu Thengozhal from this one has turned out to be so delicious, I am not sure I want to do the traditional rice flour version anymore! I also experimented with Raagi Thengozhal and made a batch of the regular Thengozhal, so now sitting pretty with a full snack rack!
The traditional murukku press comes out twice a year and the lockdown necessitated that I bring it out now. With the star shaped plate fixed to the murukku press, out comes the golden and crisp fried treats! Enjoy it anytime of the day!! But then don't blame me for  the reduced number of servings that it yields 🙂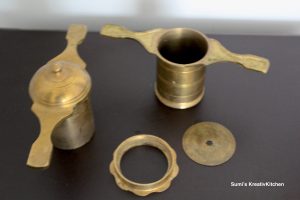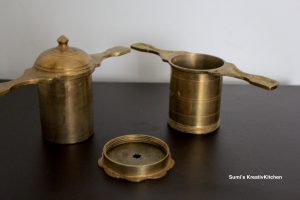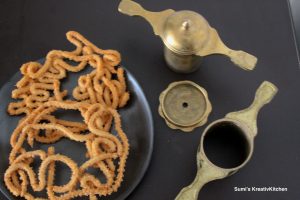 JOWARI MULLU THENGOZHAL
Yield:

25 servings (if consumed moderately!!!!)

Prep Time:

15 minutes

Cook Time:

30 minutes
Ingredients
2.5 cups Jowar Flour
1/2 cup Rice Flour
1 cup Moong Dal Flour
1/2 cup Besan
3 tbsp White Sesame Seeds
Oil for frying
Instructions
Take a large bowl and place a sieve over it. Add 2.5 cups of Jowar Flour + 1/2 cup of Rice flour. Sieve the mixture into the bowl.

To another bowl, add 1 cup of Moong Dal flour + 1/2 cup of Besan. Mix well. Take one cup of this mixture and sieve it into the jowar and rice flour mixture.

Heat up a wok and add the flour mixture and roast on medium heat till it gets fragrant. Transfer back into the bowl. Do not leave it in the wok, flours can burn in the residual heat.

Add 3 tbsp of White sesame seeds + Salt to taste. Mix well.

Heat 4 tbsp of oil.*

Add to the flour and mix well till it is well incorporated.

Make a well in the center and slowly add water little by little to make a soft, pliable dough. Ensure that the dough is not hard enough to make a roti, but not too sticky and runny. Add water in small installments.

Grease the insides of the murukku press with oil after affixing the plate with the star shape to the press.

Pinch off a small portion of the dough and make it into a cylindrical shape and stuff it into the murukku press.

Heat oil in a wok. It should be fairly hot almost to a smoking point. Reduce the heat a little and start piping the Mullu Thengozhal into the oil (usually in two installments unless you have a big wok of oil!)

Once the dough hits the oil, the oil will bubble incessantly cooking the Mullu Thengozhal. When it almost subsides, use a slotted spoon to flip it over and cook it on the other side. The oil will cease to bubble and that's the cue for you to take the Mullu Thengozhal out of the oil.

Lift it with a slotted spoon, allow the excess oil to drip and transfer to a paper towel lined platter.

Drop it with a little force to hear a CLANK! That's when you know that the Mullu Thengozhal is perfectly crisp!

Repeat with the rest of the dough.

Allow the Mullu Thengozhal to cool completely and store in an airtight container or in a big ziplock bag, but ensure that all the air is pressed out otherwise they will definitely get soggy!

Enjoy with a steaming cup of coffee/tea/beverage of your choice! Makes for a great appetizer with drinks too!
Notes
Notes to the Chef:
* If you are not vegan, heat 2 tbsp of butter + 2 tbsp of oil and add to the flour mixture. It will make for a soft dough also.